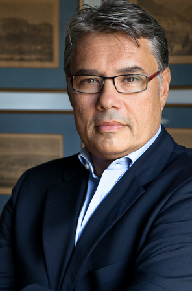 Stavros L. Athanasiou
Obstetrician – Gynecologist – Urogynecologist
Professor, Medical School of Athens, University of Athens
p. President of the European Urogynecological Association (EUGA) EUGA)
President of the Hellenic Urogynecological Society
Stavros Athanasiou is an Obstetrician-Gynecologist specializing in Urogynecology and pelvic floor reconstructive surgery.
He attended the Medical School of the University of Athens and trained in Obstetrics and Gynecology at King's College Hospital in London. In 1993 he became a member of the Royal College of Obstetricians and Gynecologists of Great Britain.
After obtaining his specialty, he continued his training in the subspeciality of Urogynecology at the internationally renowned Urogynecology Center of King's College in London, one of the largest pioneering centers of Urogynecology in the world.
He has also specialized in cosmetic genital surgery at the Laser Vaginal Rejuvenation Institute of Los Angeles, California by Dr. David Matlock.
When he returned to Greece, he commenced and organized the Department of Urogynecology and Pelvic Floor Surgery of the University of Athens at Alexandra Hospital, which is the largest urogynaecological center in Greece. He has introduced and applied all modern pelvic floor surgical techniques (laparoscopic and transvaginal) that combine efficiency and rapid recovery.
He has large experience in Aesthetic Surgical Gynecology, performing surgeries such as vaginal 'lifting' and vaginal plastic surgery.
He has shown particular interest in non-surgical methods of Aesthetic Medicine that treat problems related to the ageing process and improve the quality of life of women.
He was the first to introduce in Greece the use of MonaLisa Laser for the treatment of menopausal sexual dysfunction, and he is recognized as one of the leading researchers internationally in this field. Depending on the indications, this method can be combined with techniques that improve sexual function, such as PRP, hyaluronic acid treatment, O-shot, etc.
CONTACT US
Fill in the form with your details and the problem that concerns you and we will contact you soon to make an appointment with the Doctor.